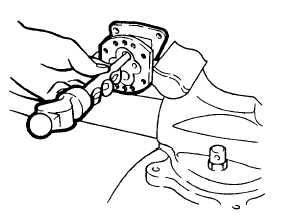 TM 5-4210-220-12
4-23.  FUEL SYSTEM AND AIR INTAKE - Continued
(13)
Remove oil seals using tool J1508-13.
WARNING
Dry  cleaning  solvent  P-D-680  (safety  or  Stoddard's  solvent)  is  potentially  dangerous.    Avoid  repeated  and
prolonged breathing of vapors and skin contact with the liquid.  Do not use near open flame, arcing equipment
or other ignition sources.  Always wear eye protection and protective clothing.  The flash point of P-D-680 is 100
to 138 deg. F (30 to 59 deg. C).
Death or serious injury could occur if compressed air is directed against the skin.  Do not use compressed air
for cleaning or drying unless the pressure is/has been reduced to 30 psi (2.11 kg/cm2) or less.  When working
with compressed air always use chip guards, eye protection and other personal protective equipment.
(14)
Clean all parts with dry cleaning solvent (item 10, Appendix E).  Dry with compressed air.
(15)
Discard oil seals, they cannot be replaced when removed from body.
(16)
Check pump gear teeth for scoring, chipping, or wear.
(17)
Check ball slot in drive gear for wear.
(18)
Check drive and drive shafts for scoring or wear.  Replace the shafts if necessary.  They should be a close
fit in both pump body and pump cover.
(19)
Check both pump body and pump cover mating surfaces are flat and smooth and fit tightly together.  Any
scratches or slight damage may result in fuel leaks.
(20)
Check for wear in the gear contact area of both cover and body  Replace as required.
(21)
Check  all  body  drilled  passages  are  clean  and  unblocked.    (Remove  plugs  from  body  for  access,  as
required).
(22)
Lubricate the lips of two new oil seals with a light coat of vegetable shortening (item 32, Appendix E).  Both
seals are identical.
(23)
Place one of the seals on the pilot of the installer handle J1508-8.  The spring side of the seal away from
the handle.
4-403