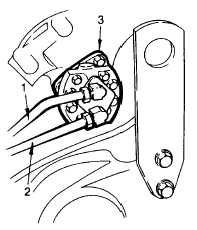 TM 5-4210-220-12
4-23.  FUEL SYSTEM AND AIR INTAKE - Continued
4-23.5  Fuel Pump
This task covers
a.
Removal
b.
Inspection
c.
Installation
d.
Repair
TOOLS
MATERIALS/PARTS
Shop Equipment, Automotive
10, Appendix E Dry Cleaning Solvent
Maintenance and Repair,
20, Appendix E Penetrating Oil
NSN 4910-00-754-0705
28, Appendix E Silicone Sealant
J1508-D Fuel Pump Repair Tool Set
32, Appendix E Vegetable Shortening
5150193 Gasket
EQUIPMENT CONDITION
Main Engine Shutdown (see para. 2-10)
RH Engine Cover Removed (see para. 4-12.11)
WARNING
JP-4 is a highly volatile fuel.  Extraordinary care must be taken where servicing components
that use this fuel.  The truck shall be grounded to an approved grounding point if it contains
JP-4 fuel.
REMOVAL
(1)
Tag  and  disconnect  fuel  lines  (1  and  2)
from  inlet  and  outlet  openings  of  the  fuel
pump.
(2)
Remove  the  three  pump  attaching  bolts
(3)    and    withdraw    the    pump    from    the
governor housing.
(3)
Remove drive coupling fork from pump or
governor housing.
INSPECTION
(1)
Discard gasket and clean surface of mating flanges.  Check for scores or scratches.
WARNING
Dry  cleaning  solvent  P-D-680  (safety  or  Stoddard's  solvent)  is  potentially  dangerous.   Avoid
repeated and prolonged breathing of vapors and skin contact with the liquid.  Do not use near
open  flame,  arcing  equipment  or  other  ignition  sources.    Always  wear  eye  protection  and
protective clothing.  The flash point of P-D-680 is 100 to 138 deg. F (30 to 59 deg. C).
4-400