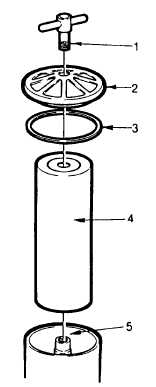 TM 5-4210-220-12
4-23.  FUEL SYSTEM AND AIR INTAKE - Continued
4-23.3  Water/Fuel Separator Filter
This task covers
Replacement
TOOLS
MATERIALS/PARTS
Tool Kit, General Mechanic,
2020SM Filter
NSN 5180-00-177-7033
11007 Gasket
11350 O-Ring
EQUIPMENT CONDITION
Main Engine Shutdown (see para. 2-10)
LH Engine Cover Removed (see para. 4-12.11)
WARNING
JP-4 is a highly volatile fuel.  Extraordinary care must be taken when servicing components
that use this fuel.  The truck shall be grounded to an approved grounding point if it contains
JP-4 fuel.
REPLACEMENT
(1)
Open  drain  valve  on  water/fuel  separator
and    drain    all    fuel    into    a    receptacle.
Dispose of fuel.
(2)
Unscrew
T-handle
(1)
completely.
Remove  lid  (2)  Remove  gasket  (3)  and
discard.
(3)
Lift out filter element (4) and discard.
(4)
With
receptacle
beneath
water/fuel
separator drain, flush body and bowl with
clean fuel.  Dispose of this fuel.
(5)
Close drain valve.
(6)
Install  new  filter  element  (4)  over  rod  in
water/fuel  separator  body.    Fill  water/fuel
separator with clean fuel.
(7)
Fit new gasket (3) to lid (2).  Place lid on
body.    Ensure  rim  of  body  mates  in  lid
recess.
(8)
Inspect    T-handle    O-ring.        Replace    as
required.
(9)
Screw T-handle (1) into body (5) through hole in lid.  Hand tighten only.
(10)
Start engine and ensure there are no air or fuel leaks.  Tighten connections as required (Allow engine to
run for 10 minutes.  Then check fuel bowl for bubbles).
(11)
Stop  engine  and  check  fuel  does  not  drain  back  to  tank,  ie  check  valve  seats.    Refit  check  valve  if
required, see para. 4-23.4.
4-398