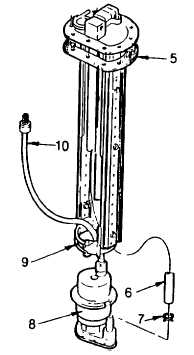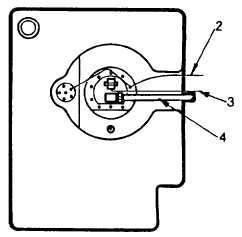 TM 5-4210-220-12
4-23.  FUEL SYSTEM AND AIR INTAKE - Continued
4-23.2  Fuel Pump - Continued
(9)
Remount
pump
in
clamp
ring
and
reconnect electrical lead.
(10)
Check pump discharge hose is free of any
cracks or kinks.  Replace as required.
(11)
Check all hanger assembly bolts are tight.
(12)
Remove   any   old   gasket   material   from
pump and tank flange.
(13)
Carefully  place  new  gasket  over  hanger
assembly and onto pump flange.
INSTALLATION
(1)
Carefully     slide     assembled     pump     and
hanger into fuel tank.
(2)
Using   a   flat   screwdriver,   install   the   10
screws   and   washers   securing   flange   to
tank.
(3)
Reconnect main engine fuel delivery line.
(4)
Reconnect
pump
ground
wire
and
electrical lead.  Be sure tank level sender
ground wire is also reconnected.
(5)
Test   pump   by   pressing   PUMP   PRIME
pushbutton   in   the   cab.      Ensure   pump
hums.
(6)
Replace aluminum decking over  fuel tank
compartment.
REPAIR
NOTE
All repairs require priming pump
to be removed from fuel tank.  See
REMOVAL preceding.
a.
Discharge Hose Repair
(1)
Remove hose clips from both ends of the discharge hose.
(2)
Pull discharge hose of pump and flange fittings.
(3)
Replace hose with piece of similar length and internal diameter.  Ensure it is compatible with diesel fuel.
4-396