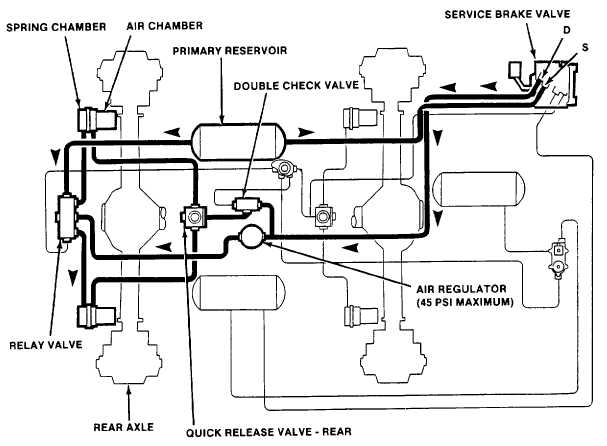 TM 5-4210-220-12
1-17.  BRAKE SYSTEM - Continued
b.  Rear Brake System
(1)    When  the  brake  pedal  is  depressed,  pilot  pressure  is  supplied  from  the  primary  reservoir  via  the  service
brake valve and regulator to the relay valve, (see fig. 1-31).  The pilot pressure opens the relay valve and allows brake
application air from the primary reservoir to enter and pressurize the spring brake chambers.  The combined force of air
and spring pressure suppresses the parking brake release pressure in the opposing air chambers, (see para. 1-17 a.) and
engages the brakes.
(2)    To  prevent  excessive  brake  force,  the  continuously  balanced  pilot  and  spring  chamber  air  pressures  are
regulated to a maximum 45 psi (see 310 kPa) Below this limit the pressures are infinitely controlled.
(3)    When  the  brake  pedal  is  released,  the  pilot  pressure  is  exhausted.    The  relay  valve  shuts  off  the  brake
application air and vents the spring chambers to atmosphere.  The opposing air chambers remain pressurized and thus
disengage the brakes.
(4)  To prevent jamming of the brakes if the service brakes are applied while the parking brakes are engaged,
counteracting pressure is provided to the air chambers.  This air pressure is provided via the double check valve and
quick release valve simultaneously with the application of air pressure to the spring chambers.
Figure 1-31.  Rear Brake System - Normal Operation
1-37