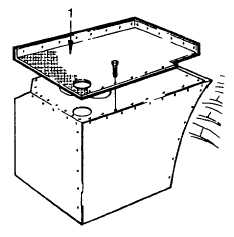 TM 5-4210-220-12
4-23.  FUEL SYSTEM AND AIR INTAKE - Continued
4-23.2 Fuel Priming Pump
This task covers
a.
Removal
b.
Inspection
c.
Installation
d-
Repair
TOOLS
MATERIALS/PARTS
Tool Kit, General Mechanic,
1-218019 Fuel Pump Gasket
NSN 5180-00-177-7033
EQUIPMENT CONDITION
Main Engine Shutdown (see para. 2-10)
APU Shutdown (see para. 2-12)
Batteries Disconnected (see para. 4-24)
WARNING
JP-4 is a highly volatile fuel.  Extraordinary care must be taken when servicing components
that use this fuel.  The truck shall be grounded to an approved grounding point if it contains
JP-4 fuel.
NOTE
The fuel priming pump may be removed/installed either with the fuel tank removed or installed
in the truck.  The instruction is written assuming the fuel tank is mounted in the truck.
REMOVAL
(1)
Place  suitable  container  underneath  fuel
tank, drain fuel tank.  Fuel tank when full,
contains 45 gal (170 L) of fuel.
(2)
Remove fuel tank drain plug and filler cap
and drain all fuel from the tank.
(3)
Remove  aluminum  decking  (1)  from  top
of fuel tank.
4-394