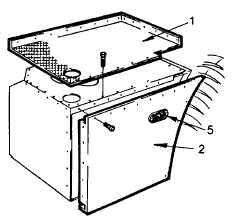 TM 5-4210-220-12
4-23.  FUEL SYSTEAM AND AIR INTAKE
4-23.  Fuel Tank
This task covers
a.
Removal
b.
Inspection
c.
Installation
TOOLS
Tool Kit, General Mechanic,
NSN 5180-00-177-7033
EQUIPMENT CONDITION
Main Engine Shutdown (see para. 2-10)
APU Shutdown (see para. 2-12)
Batteries Disconnected (see para. 4-24)
MATERIALS/PARTS
19, Appendix E White Grease
22, Appendix E Pipe Sealant
25, Appendix E Sealant
311424 Fuel Tank
PERSONNEL REQUIRED -2
WARNING
JP-4 is a highly volatile fuel.  Extraordinary care must be taken when servicing components
that use this fuel.  The truck shall be grounded to an approved grounding point if it contains
JP-4 fuel.
REMOVAL
(1)
Place  suitable  container  underneath  fuel
tank drain.  Fuel tank, when full, contains
45 gal (170 L) of fuel.
(2)
Remove fuel tank drain plug and filler cap
and drain all fuel from the tank.
(3)
Remove    3    screws    securing    fuel    tank
cover to outer cab.
(4)
Remove
3
screws
and
lockwashers
securing  fan  to  inner  cab.    Tag  and  cut
wire adjacent to butt connector.
(5)
Remove  aluminum  decking  (1)  from  top
of fuel tank compartment.
(6)
Loosen front fender where it attaches to fuel tank front face (2).
NOTE
To remove screw A, drill a 3/8 In (9.5 mm) hole to access screw head.
(7)
Remove front face (2) of fuel tank compartment, support front face carefully to prevent breaking wires to
lamp (5).
(8)
Support front face and cut wire to lamp about 6 in. (150 mm) from front face.
4-390