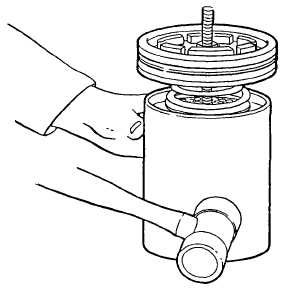 TM 5-4210-220-12
4-22.  AIR SYSTEM - Continued
(14)
Pour the entire package of desiccant material into the shell, making sure none is lost.  Handle carefully
so that the bolt does not fall out.
(15)
Level  the  desiccant  material  and  install  second  perforated  plate  cloth  side  down.    (Make  sure  the
shoulder of the bolt is centered, and extends slightly above the top of the perforated plate).
NOTE
If the shoulder of the bolt does not extend above the perforated plate tap the side of the desiccant
container
(16)
Set the conical spring (10) on top of the perforated plate (large diameter down - small diameter up).
(17)
Place the spring retainer (9) on top of the spring.
(18)
Install the previously rebuilt desiccant plate (7) on the cartridge bolt so that the ball check retaining clip is
in view.
(19)
Using  the  locknut,  (1)  draw  the  assembly
together    to    approximately    half    of    the
spring's free height.  While slowly turning
the cartridge, tap the side of the shell with
a plastic mallet.  This allows the desiccant
material to settle properly into place.
(20)
Continue  to  tighten  the  nut,  making  sure
all items are properly alined.
(21)
Install desiccant cartridge assembly in air
drier   housing   and   turn   bolt   head   until
assembly
is
screwed
tight
into
the
housing.
(22)
Install  end  cover  in  drier  as  detailed  in
End    Cover    Repair,    steps    7    thru    10,
preceding.
(23)
Install   and   test   air   drier   as   detailed   in
INSTALLATION preceding.
4-387