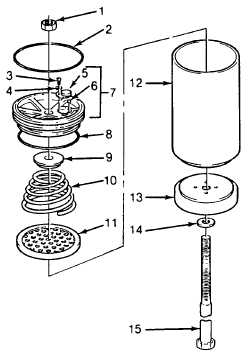 TM 5-4210-220-12
4-22.  AIR SYSTEM - Continued
4-22.12  Air Drier - Continued
f.
Desiccant Filter Repair
NOTE
This   task   consists   of   replacing
the desiccant in the air drier.
This  task  may  be  accomplished  with  the
drier on the truck.
Ensure    air    tanks    are    drained    prior    to
repair.
(1)
Remove   end   cover   as   detailed   in   End
Cover Repair, steps 1 thru 5, preceding.
(2)
Remove     the     cartridge     and     desiccant
sealing plate assembly by unscrewing the
hex bolt seen inside the main shell of the
drier.
(3)
Remove     locknut     (1)     from     assembly,
assembly
is
spring
loaded.
Hold
assembly   firmly   while   removing   nut   the
last few turns.
(4)
Lift off the desiccant plate assembly (7).
(5)
Remove the two O-rings (2 and 8) from the desiccant plate (7) and discard them.
(6)
Remove the ball check valve retaining clip (5) and remove and discard the rubber ball valve (6).
(7)
Clean the desiccant plate thoroughly.  Be sure the purge orifice and check valve seat are clean.
(8)
Install a new ball check valve (6) and replace the retaining clip (5), screw (3), and washer (4).
(9)
Lubricate the two new O-rings (2 and 8) with petroleum jelly (item 21, Appendix E) and install them in
their respective grooves in the desiccant plate (7).
(10)
Remove the spring (10), spring seat (9), bolt (15), and cartridge shell (12).  Discard the oil separator filter
(13), the two perforated plates (11), and desiccant material.
(11)
Insert a new perforated plate into the cartridge, cloth side up, and tap it firmly to the bottom (Cloth always
faces desiccant material).
(12)
Slide washer (14) and oil separator filter (13) over the cartridge bolt with the gasket surface next to the
shell (12).
(13)
Install  the  bolt  with  the  oil  separator  into  the  bottom  of  the  shell  (12)  and  through  center  hole  of  the
perforated plate in the bottom of the shell.
4-386