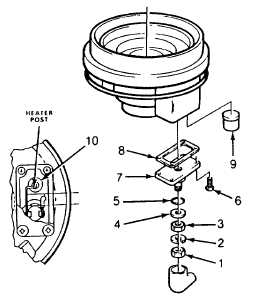 TM 5-4210-220-12
4-22.  AIR SYSTEM - Continued
(2)
Remove  nut  1),  lockwasher  (2),  nut  (3),
flatwasher (4), and O-ring (5).  Discard O-
ring.
(3)
Remove four screws (6) and cover (7).
(4)
Remove and discard gasket (8).
(5)
Remove and retain spacer (9).
(6)
Cut  uninsulated  thermostat  wire  at  Point
B.      Remove  and  discard  thermostat  and
terminal assembly (10).
(7)
Clean  remaining  wire  attached  to  heater
terminal.
(8)
Clean thermostat "pocket" in end cover.
(9)
Cut   uninsulated   lead   of   new   thermostat
(10) at point A.
(10)
Install thermostat in end cover "pocket" and position uninsulated leads next to each other.
(11)
Using a soldering heat sink, clamp uninsulated leads at Point B and solder leads with straight rosin core
solder.  DO NOT USE ACID CORE SOLDER.  Clean excess solder off end cover.
(12)
Install thermostat terminal in cover (7).
(13)
Install O-ring (5), washer (4), nut (3), lockwasher (2), and nut (1).  Torque nuts to 24 in. lb (2.7 Nm).
(14)
Install spacer (9) over thermostat (10).
(15)
Install gasket (8) and cover (7) Secure cover to end cover using screws (6).  Torque to 36 in. lb (4.1 Nm)
(16)
Test thermostat as follows.
(a)
At a temperature above 85 deg. F (29 deg. C) check resistance between thermostat terminal (1)
and end cover (10).  Resistance should be 200,000 ohms or greater, if not, check for solder "path"
short.
(b)
Chill  entire  end  cover  assembly  to  35  deg.  F  (1.5  deg.  C)  or  below  and  check  resistance  again.
Resistance should be 2 - 15 ohms.
(17) Install end cover in drier as detailed in End Cover Repair, steps 7 thru 10, preceding.
(18) Install and test air drier as detailed in INSTALLATION preceding.
4-385