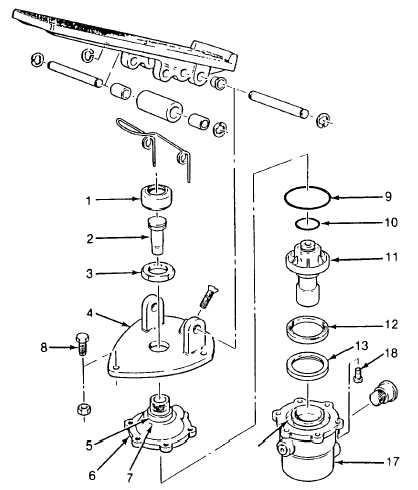 TM 5-4210-220-12
4-22.  AIR SYSTEM - Continued
(12)
Install shim (16) and spring (15) in body (1).
(13)
Install  new  seal  (12)  and  thrust  ring  (13)  on  piston  (14).    Lubricate  seal  with  petroleum  jelly  (item  21,
Appendix E) prior to installation.  Be sure seal opening faces upwards.
(14)
Insert  piston  (14)  carefully  in  body  (17).    Be  sure  seals  are  not  torn  on  insertion.    Check  piston  moves
freely up and down in body.
(15)
Install push rod (2) and boot (1) into upper body assembly.
(16)
Install  O-ring  (10)  on  barrier  plate  (11)  and  install  O-ring  (9)  on  cover.    Install  barrier  plate  in  cover
assembly.
(17)
Aline lower assembly with cover assembly.  Be sure inlet and outlet ports point away from the pointed end
of the treadle plate.  Install screws (18) and tighten to 24 in. lb (2.7 Nm).
(18)
Install treadle as detailed in b preceding.
(19)
Install and test foot throttle valve assembly in truck as detailed in INSTALLATION preceding.
4-375