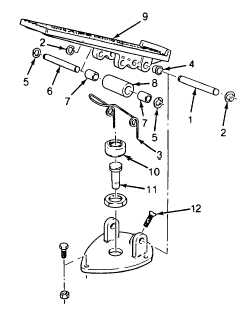 TM 5-4210-220-12
4-22 AIR SYSTEM - Continued
4-22.10 Foot Throttle Valve - Continued
a.
Treadle Repair - Continued
(10)
Aline pedal housing holes, valve housing holes and spring (3)
and push pin (1) through all three components.  Ensure spring
tends to push pedal up.
(11)
Retain pin (1) with clips (2).
(12)
Ensure roller just contacts the push rod when pedal is released.
Repair stop screw (12) as required, see b. following.
b.
Stop Screw Repair
NOTE
The  stop  screw  is  held  in  position  with  threadlock  liquid.
Replace screw if position of stop requires adjustment.
(1)
Remove screw (12).
(2)
Clean   the   threads   in   the   mounting   plate.      Use   a   tap   if
necessary.
WARNING
Dry cleaning solvent P-D-680 (safety or Stoddard's solvent) is potentially dangerous.  Avoid repeated
and  prolonged  breathing  of  vapors  and  skin  contact  with  the  liquid.    Do  not  use  near  open  flame,
arcing equipment or other ignition sources.  Always wear eye protection and protective clothing.  The
flash point of P-D-680 is 100 to 138 deg. F (30 to 59 deg. C).
Death  or  serious  injury  could  occur  if  compressed  air  is  directed  against  the  skin.    Do  not  use
compressed air for cleaning or drying unless the pressure is/has been reduced to 30 psi (2.11
kg/cm  ?  ) or less.  When working with compressed air always use chip guards, eye protection and
other personal protective equipment.
(3)
Clean the mounting plate and new screw threads with dry cleaning solvent (item 10, Appendix E) and dry
with compressed air.
(4)
Pressurize  the  throttle  valve  with  at  least  65  psi  (450  kPa)  air  pressure  either  from  the  truck  or  from  a
temporary air supply.
(5)
Apply a  liberal  coating  of  threadlock  liquid  (item  29,  Appendix  E)  to  both  the  screw  and  mounting  plate.
Install the screw and adjust until the roller (8) just contacts the push rod (11).
4-372