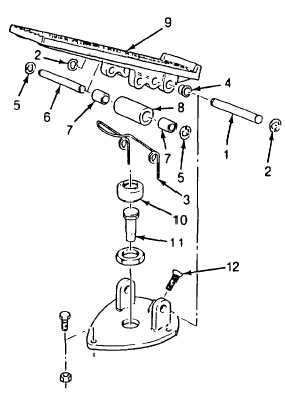 TM 5-4210-220-12
4-22 AIR SYSTEM - Continued
(3)
Ease valve body through cab floor.
(4)
Seal area around flange with sealant (item 25, Appendix E) and install screws (1) to secure valve to cab
floor.
(5)
Start  main  engine  and  ensure  foot  throttle  provides  increase  in  engine  speed  in  proportion  to  treadle
depression.  Ensure engine cuts back to low idle immediately treadle is released.
(6)
Stop main engine and disconnect batteries.
(7)
With  treadle  depressed  about  half  way,  brush  soap  solution  over  entire  valve  assembly  and  connectors.
No  leakage  is  permitted.    Tighten/remake  joints  as  required.    Ensure  this  bubble  test  is  carried  out  with
primary air tank at greater than 65 psi (450 kPa).
REPAIR
a.
Treadle Repair
NOTE
This can be repaired without removing
whole foot throttle valve from truck.
(1)
Remove  spring  clip  (2),  pin  (1),  pedal  (9),
and spring (3).
(2)
Tap bushings (4) out of pedal.
(3)
Remove  spring  clip  (5),  pin  (6),  bushings
(7), and roller (8).
(4)
Remove dust boot (10) and push rod (11).
(5)
Inspect    all    parts    for    wear,    or    stiffness.
Replace any parts failing inspection.
NOTE
Item 1 thru 8 are available in the
repair kit.  This kit also includes parts
to repair the valve subassembly.
(6)
Lubricate both pivot pins and push rod with silicone grease (item 27, Appendix E).
(7)
Install push rod (11) in valve.  Install dust boot (10) over push rod.  Be sure dust boot engages in housing
and on push rod.
(8)
Put bushings (7) in roller (8).  Slide pin (6) through pedal and roller bushing and retain with clips (5).
(9)
Install bushings (4) in valve housing.
4-371