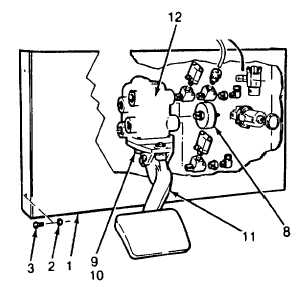 TM 5-4210-220-12
4-22.  AIR SYSTEM - Continued
4-22.8 Service Brake Valve - Continued
(12)
Brush the brake pedal and connectors with
a  soap  solution  while  applying  the  brake.
No  leakage  is  permitted.    Tighten/remake
joints as required.
(13)
Release brake pedal and then slowly apply.
Check    that    both    pressure    gages    have
similar  readings  and  both  show  a  reading
proportional  to  the  movement  of  the  brake
pedal
(Primary
valve
should
be
approximately  2  psi  (14  kPa)  greater  than
secondary valve).
(14)
From   full   application,   release   pedal   and
check pressure falls to zero promptly.
(15)
Stop   main   engine,   set   battery   switch   to
OFF.
(16)
Drain   pressure   from   all   air   tanks   via   the
draincocks.
(17)
Disconnect the temporary pressure gages and install the stop light switches (8).
(18)
Connect wires to all pressure switches mounted on the foot brake.  Be sure they are connected exactly
as noted in REMOVAL step 1.
(19)
Restart main engine and ensure stop lights illuminate when brake is applied and low air alarms cease when
air tanks are at full pressure.
REPAIR
CAUTION
Normal procedure is to replace the brake valve assembly if malfunctioning.  In an emergency, it may
be repaired as per the following procedures.
NOTE
The brake valve does not have to be removed from the truck to repair the internal mechanism (see
REMOVAL steps 7. thru 11. only).
(1)
Remove O-rings (2 and 3).
(2)
Remove retaining ring (17), and remove No 2 circuit inlet exhaust assembly (1).
(3)
Apply firm pressure on spring seat (19), which will compress piston return spring.  Locking groove in piston
(25)   is   now   accessible   through   rectangular   opening   in   lower   static   piston   body   (24)   Insert   wire   or
screwdriver into locking groove, thus holding static piston spring in compressed position.
4-364