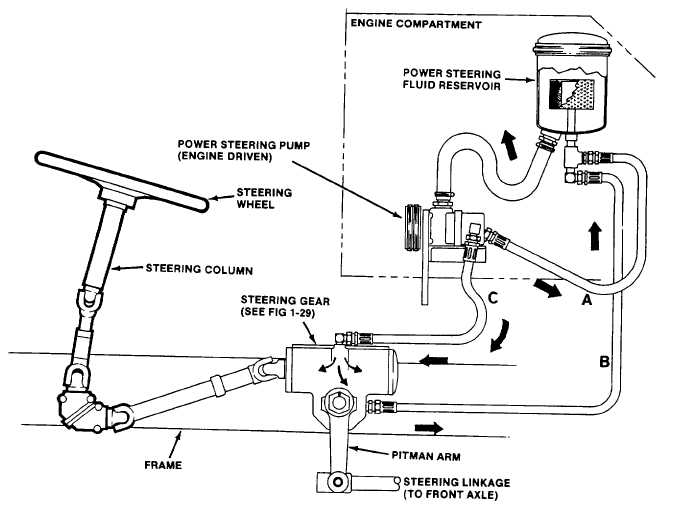 TM 5-4210-220-12
1-16   STEERING SYSTEM

.  Turning motion from the steering wheel is mechanically transmitted through the steering
column and shaft linkage to the steering gear.  in the gear, the motion is transferred via a rack and pinion to the pitman
arm.  A steering linkage connected to this arm provides the final transfer to the wheel ends.
a.  Power Assist System

.
(1)  To reduce the force required to manually turn the front wheels, the steering system is provided with a
hydraulically-operated power assist system, (see fig. 1-28).  Hydraulic fluid from the reservoir is pressurized by a vane-
type power steering pump.  From the pump, this fluid is supplied to the steering gear (line C) where it flows through an
internal piston and valve assembly.  From the gear, the fluid is returned to the reservoir (line B).
(2)  To ensure that the working pressure of the hydraulic flow is maintained below a set limit, the pump is
equipped with a pressure relief valve.  This valve is connected with a drain line (line A) back to the reservoir.
(3)  To remove solid contaminant from the system, the reservoir is provided with a replaceable internal filter.
Figure 1-28.  Power Steering System
1-34