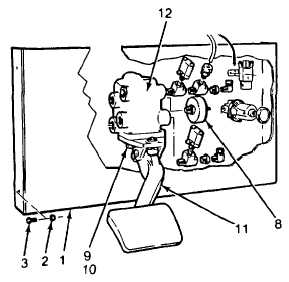 TM 5-4210-220-12
4-22.  AIR SYSTEM - Continued
(6)
While supporting the brake valve, remove the three capscrews (12) attaching brake pedal to plate.
(7)
Remove all fittings and pressure switches attached to the valve.
(8)
To remove the valve internals carry out the following instructions.
(9)
Remove capscrews (9) and washers (10) Remove brake pedal assembly (11).
(10)
Pry off retainer plate mounted beneath valve block.  This plate may come off as brake pedal assembly is
removed.
(11)
Pull out the lower static piston assembly from the body (12).
(12)
Make  a  hook  using  a  piece  of  wire  and  insert  wire  into  body.    Hook  remaining  valve  assembly  and  pull
firmly to remove assembly from body (12).
INSTALLATION
(1)
Push upper static piston into valve body.
(2)
Push lower static piston into valve body and
retainer.      Ensure   locking   tabs   of   retainer
plate engage valve body.
(3)    Install    pedal    assembly    (11)    using    three
capscrews (9) and washers (10).
(4)
Install  all  fittings  and  pressure  switches  in
valve body using illustration as a guide.  Do
not  install  stop  light  switches  (8).    Coat  all
pipe   threads   with   pipe   sealant   (item   22,
Appendix E) prior to installation.
(5)
Support the valve and attach the brake valve to the plate (1) using capscrews (7).
(6)
Replace hoses (D, E, F, and G) to the back of the brake valve.  Be sure they are connected exactly as
noted in REMOVAL, step 4.
(7)
While supporting the plate (1) Install the six screws (3) and locknuts (2).
(8)
Install bolts (4) and nuts (6) to reattach steering support brackets (5) to brake pedal plate (1).
(9)
Reconnect  hoses  (A,  B,  and  C)  to  the  front  of  the  brake  valve.    Be  sure  they  are  connected  exactly  as
noted in REMOVAL, step 2.
(10)
Connect a temporary 0 - 150 psi (0 - 1000 kPa) gage to each of the brake stop switch ports.
(11)
Start main engine and allow all air tanks to reach full pressure.
4-363