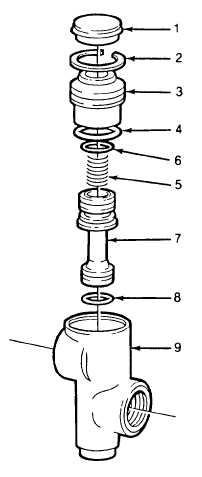 TM 5-4210-220-12
4-22 AIR SYSTEM - Continued
(3)
Install air lines A, B, and C
(4)
Start main engine and allow all air tanks to fill with air
(5)
Brush   valve   body   and   connectors   with   soap   solution.      No   leakage   is   permitted.      Tighten/replace
connectors as required.
(6)
Shut down main engine and drain primary air tank (left rear wheel well)
(7)
Restart  main  engine  while  monitoring  cab  primary  air  pressure  gage.    Check  that  as  soon  as  ignition
switch is operated and prior to engine start, the primary air tank is pressurized to at least 50 psi (340 kPa)
as a result of the air starter valve operating.
(8)
Replace front wheel and cab skid plate if required
REPAIR
NOTE
The  air  starter  valve  can  only  be  repaired  if  it  is  removed  from  the  truck.    See  REMOVAL
preceding.
(1)
Pull off boot (1)
(2)
Push down on valve guide (3) and remove
retaining ring (2) Be aware that valve guide
is spring loaded
(3)
Remove   valve   guide   (3)   and   push   out
supply  valve  (7)  and  spring  (5)  from  body
(9)
(4)
Remove   and   discard   O-ring   (4),   supply
valve (7), retaining ring (2), and boot (1)
(5)
Clean
and
Inspect
all
remaining
components.  Check for burrs, scuff marks
or
other
deterioration.
Replace
any
components failing inspection.
(6)
Coat  all  O-rings  and  sliding  surfaces  with
petroleum jelly (item 21, Appendix E).
(7)
Slide   new   supply   valve   (7)   carefully   into
body.      Be   sure   lower   O-ring   (8)   is   not
scuffed as it passes the delivery port.
(8)
Install spring (5)
(9)
Install  new  O-ring  (4)  on  valve  guide  (3)
and  push  carefully  over  supply  valve  and
into body.  Retain with ring (2).
4-359