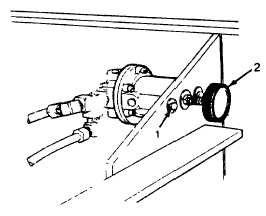 TM 5-4210-220-12
4-22.  AIR SYSTEM - Continued
4-22.6 Air Regulators.
This task covers
a.    Removal
b.
Installation
c.    Repair
TOOLS
MATERIALS/PARTS
Shop Equipment, Automotive
22, Appendix E, Pipe Sealant
Maintenance and Repair,
NSN 4910-00-754-0705
EQUIPMENT CONDITION
Main Engine Shutdown (see para. 2-10)
APU Shutdown (see para. 2-12)
Batteries Disconnected (see para. 4-24)
All Air Tanks Drained
WARNING
Death  or  serious  injury  could  occur  if  compressed  air  is  directed  against  the  skin.    Always
drain all air tanks via the draincocks prior to maintaining the air regulators.
NOTE
One  of  these  valves  is  installed  in  the  hose  reel  compartment  on  the  frame  cross  member
above the rear axle.  It is located on the compartment back wall at the upper right side.  This
valve is identical to the throttle regulator on the structural control panel.
REMOVAL
(1)    Tag and disconnect air lines from air regulator
(2)    Remove valve knob (2).
(3)    Remove capscrews (1) from valve and remove valve
from truck.
(4)    Remove the connectors from each port
INSTALLATION
(1)    Install a pressure gage and draincock on the delivery
port of the valve
(2)
Install a temporary air line and pressure gage on the supply side of the valve
(3)    Close the delivery side draincock
(4)    Slowly raise the air pressure on the supply side in 5 psi (35 kPa) steps.  At each step, be sure both gages
read the same pressure until the set pressure of the gage is reached.
Change 7
4-354