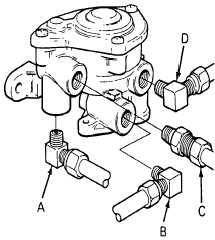 TM 5-4210-220-12
4-22 AIR SYSTEM - Continued
4-22.3 Spring Brake Valve.
This task covers
a.    Removal
b.
Installation
c.    Repair
TOOLS
MATERIALS/PARTS
Shop Equipment, Automotive
22, Appendix E Pipe Sealant
Maintenance and Repair,
NSN 4910-00-754-0705
EQUIPMENT CONDITION
Main Engine Shutdown (see para. 2-10)
APU Shutdown (see para. 2-12)
Batteries Disconnected (see para. 4-24)
Truck Wheels Blocked
All Air Tanks Drained
WARNING
Death  or  serious  injury  could  occur  if  compressed  air  is  directed  against  the  skin.    Always
drain all air tanks via the draincocks prior to maintaining the spring brake valve.
NOTE
This valve is installed on the frame cross member above the rear axle.
REMOVAL
(1)
Tag and disconnect air lines A, B, C and D from
spring brake valve
(2)
Remove capscrews and locknuts and remove
spring brake valve from truck
(3)
Remove the elbow connectors from each port.
Make a sketch to indicate which elbows fit which ports.
INSTALLATION
(1)
Coat elbows with pipe sealant (item 22, Appendix
E) and install on new valve
(2)
Install the spring brake valve in the truck using the capscrews and locknuts
(3)    Install a pressure gage in a tee to port C.  Connect all air lines as noted in step 1 of REMOVAL
preceding.  Coat all pipe threads with pipe sealant (item 22, Appendix E) prior to installation.
4-344