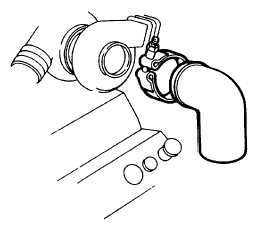 TM 5-4210-220-12
4-21.  EXHAUST SYSTEM - Continued
4-21.3  Clamps and Hangers
This task covers
Replacement
TOOLS
MATERIALS/PARTS
Tool Kit, General Mechanic, Automotive,
21, Appendix E Petroleum Jelly
NSN 5180-00-177-7033
89528-K Seal Clamp
89559-K Clamp
EQUIPMENT CONDITION
89510-K V Clamp
Main Engine Shutdown (see para. 2-10)
101625 Clamp, Weldment
APU Shutdown (see para. 2-12)
2206923 Rubber Shock
Batteries Disconnected (see para. 4-24.12)
101777 Bracket Support Rear
Pump Body Heat Shields Removed
101778 Bracket Support Front
(see para. 4-11.2)
MS51922-17 Locknut
MS90725-60 Capscrew
MS90725-72 Capscrew
WARNING
Exhaust  parts  can  be  hot  enough  to  cause  severe  burns.    Allow  exhaust  system  to  cool  before
servicing.
REPLACEMENT
a.
V Clamp or Clamp Replacement.
NOTE
Similar procedures are used for the tube - tube clamp
and the turbocharger clamp.
(1)
Remove  clamp  from  turbocharger  end  of  elbow
weldment.    If  nut  is  severely  corroded  cut  band
using a hacksaw.
(2)
Separate elbow from turbocharger and insert new
clamp over turbocharger and elbow flange.
(3)
Tighten clamp nut to 30 ft lb (41 Nm).
4-338