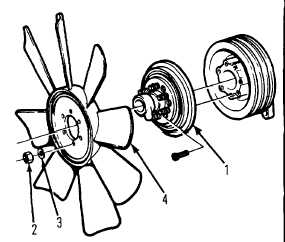 TM 5-4210-220-12
4-20.  RADIATOR AND COOLING SYSTEM  - Continued
4-20.2  Fan Assembly
This task covers
Replacement
TOOLS
MATERIALS/PARTS
Tool Kit, General Mechanic, Automotive,
16, Appendix E Grease
NSN 5180-00-177-7033
4035-37494-07 Fan
1090-06060-02 Fan Clutch
EQUIPMENT CONDITION
1077-05827-02 Fan Hub
Main Engine Shutdown (see para. 2-10)
APU Shutdown (see para. 4-12)
Batteries Disconnected (see para. 4-24)
Engine Compartment Covers Removed (see para
4-12.11)
Truck Wheels Blocked
All Air Tanks Drained
REPLACEMENT
a.
Fan Replacement.
(1)
Disconnect air line from fan clutch piston.
(2)
Remove nut from end of fan clutch (1) and remove fan clutch piston.
(3)
Remove nuts (2) and lockwashers (3) retaining fan to fan hub.  Fan clutch is locked on because no power
is on truck.  However, fan will still slip so hold blades when loosening nuts.
(4)
Remove fan (4) and rest against radiator.
(5)
Remove    fan    clutch    and    pulley    assembly    as
detailed in b. following, steps 2 thru 6.
(6)
Remove  fan  through  space  between  engine  and
radiator shroud.
(7)
Place   new   fan   against   radiator,   install   through
space between engine and radiator shroud.
(8)
Install fan clutch and pulley assembly as detailed
in b following, steps 12 thru 17.
(9)
Place new fan over fan clutch and tighten nuts to
75 ft lb (100 Nm).
(10)
Install   fan   clutch   piston   and   secure   with   nut.
Reconnect air line to clutch.
(11)
Rotate fan by hand to test clearance between fan and shroud.  To disengage fan clutch, set fan switch to
AUTO.  Fan clearance should be at least 1 in. (2.5 cm).
4-326