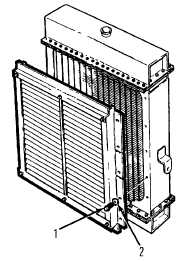 TM 5-4210-220-12
4-20.  RADIATOR AND COOLING SYSTEM - Continued
4-20 1 Radiator and Shutter Assembly - Continued
f.
Radiator Shutter Repair.
NOTE
The   shutter   cannot   be   repaired.      Replace   if   faulty.
Radiator must be removed from truck to enable shutter
replacement.  Ensure air tanks are drained.
(1)
Remove     radiator     from     truck     as     detailed     in
REMOVAL preceding.
(2)
Remove  shutter  and  shutter  cylinder  together  by
removing retaining screws (1) and washers (2).
(3)
Remove air line from shutter cylinder.
(4)
Prior to installation of new shutter, coat the flange
areas    of    the    radiator    with    sealant    (item    18,
Appendix E).
(5)
Install shutter on radiator using screws (1) and washers (2) Tighten to 7 ft lb (10 Nm).
(6)
Test assembly by connecting a 100 psi air supply to the shutter cylinder.  Ensure shutter operates freely.
(7)
Coat threads with pipe sealant (item 22, Appendix B) and connect air line to shutter cylinder.  Wrap in a
pigtail and tape to side of radiator.
(8)
Install radiator/shutter assembly as detailed in INSTALLATION preceding.
4-324/(4-325 Blank)