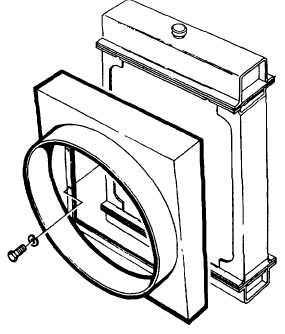 TM 5-4210-220-12
4-20.  RADIATOR AND COOLING SYSTEM - Continued
4-20.1  Radiator and Shutter Assembly - Continued
d.
Radiator Shroud Repair
WARNING
Engine  coolant  can  cause  severe  burns.    Allow  engine  to  cool  before  attempting  to  maintain  the
radiator.
NOTE
The shroud can be repaired without removing radiator from the truck.
(1)
If   the   shroud   is    bent   or   dented   such   that   it
interferes  with  the  fan,  bend  shroud  away  from
fan.      Always   test   clearance   by   rotating   fan   by
hand  before  starting  engine.    To  disengage  fan
clutch, set fan switch to AUTO.
(2)
If   shroud   is   very   badly   damaged,      replace   as
detailed below.
(3)
Remove  engine  compartment  canopy,  see  para.
4-12.11.
(4)
Remove  fan  hub  nuts  and  nut  retaining  the  fan
clutch  piston.    Remove    the  piston.    Place  fan
against radiator, within the shroud.
(5)
Disconnect  air  hose  from  fan  clutch  piston  and
pull out of shroud.
(6)
Remove  the  hoses  and  tubes  connected  to  the
upper tank on the radiator, see para. 4-20.3.
(7)
Remove the radiator overflow hose from shroud.
(8)
Undo capscrews attaching shroud to radiator.
(9)
Pull shroud and fan up through the roof canopy.
(10)
Replace  shroud  and  fan  and  reattach  to  radiator
with screws.
(11)
Replace  hoses and tubes connected to the upper
tank on the radiator, see para. 4-20.3.
(12)
Thread air hose through fan shroud and attach to
fan clutch piston.
(13)
Install   fan   and   fan   clutch   piston   on   fan   hub.
Tighten fan retaining nuts to 75 ft lb (100 Nm).
4-322