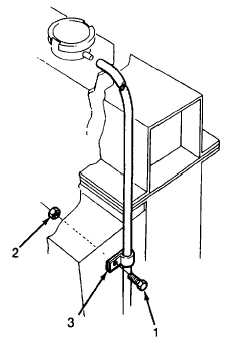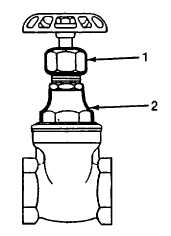 TM 5-4210-220-12
4-20.  RADIATOR AND COOLING SYSTEM - Continued
4-20 1  Radiator and Shutter Assembly - Continued
a.
Radiator Pressure Cap Repair - Continued
(3)  Install radiator cap.  Start engine and check temperature of coolant when at working temperature.
Be sure no fluid is dripping from radiator overflow hose.
b.
Radiator Overflow Hose Repair
WARNING
Engine coolant can cause severe burns.  Allow engine to cool before attempting to maintain
the radiator.
NOTE
The radiator overflow hose cannot
be   repaired.      Replace   if   it   has
cracks   or   tears.      The   overflow
hose    can    be    replaced    without
removing   the   radiator   from   the
truck.
(1)
Remove screws (1), nuts (2), and clamps
(3).
(2)
Pull radiator overflow hose off radiator.
(3)
Cut length of radiator hose to fit.
(4)
Install radiator hose on filler neck.
(5)
Clamp  in  place  using  screw  (1),  nuts  (2)
and clamps (3).
c.
Radiator Drain Valve Repair
WARNING
Engine  coolant  can  cause  severe
burns.        Allow    engine    to    cool
before  attempting  to  maintain  the
radiator.
NOTE
The  drain  valve  can  be  repaired
without    removing    radiator    from
the truck.
(1)
If    the    valve    stem    leaks    when    under
pressure,  tighten  gland  nut  (1)  until  leak
stops.
(2)
If  leak  does  not  stop  replace  the  valve,
see below.
4-320