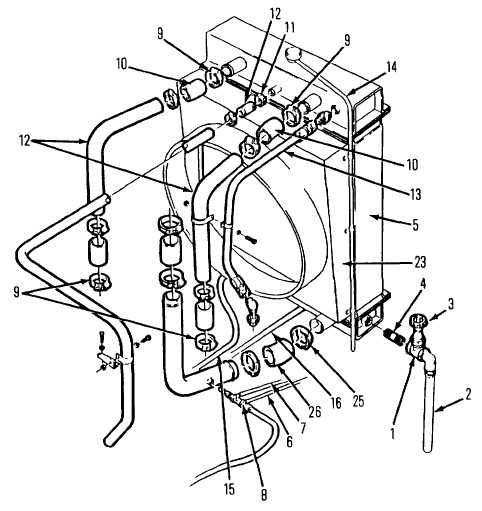 TM 5-4210-220-12
4-20.  RADIATOR AND COOLING SYSTEM - Continued
4-20.1 Radiator and Shutter Assembly - Continued
(10)
Disconnect overhead crane and remove radiator lifting tool from radiator.
(11)
Attach air line (6) to fan clutch.
(12)  Remove plugs from transmission hoses (15 and 16) and plugs from radiator.  Attach hoses
(15 and 16) to radiator and tighten fittings firmly.
(13)
Attach hose (13) to radiator connection and tighten firmly.
(14)
Attach overflow hose to radiator fill neck.
(15)
Twist upper tubes (12) so that hoses (10) can be connected to radiator connections.
4-318