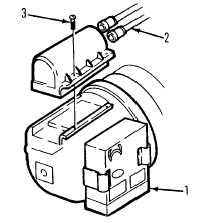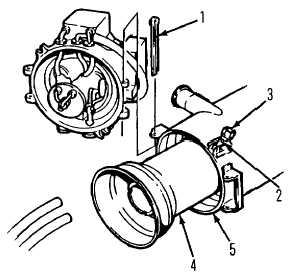 TM 5-4210-220-12
4-19.  WINTERIZATION SYSTEM-Continued
4-19.5 Winterization Heater-Continued
b.
Ignition Spark Coil Repair
NOTE
This can be replaced without
removing heater from truck.
(1)
Unplug     connections     between     electronic
control unit and ignition spark coil.
(2)
Remove   ignition   leads   (2)   from   ignition
spark coil.
(3)
Remove  four  screws  (3)  mounting  coil  to
top of motor and replace the ignition spark
coil.      The   ignition   spark   coil   cannot   be
repaired.
(4)
Connect    ignition    leads    and    fasten    new
ignition coil with four screws (3).
c.
Combustion Chamber Repair
NOTE
Unit must be removed from truck
for repair.
(1)
Loosen  nuts  (3)  and  swing  aside  eyebolts
(2).
(2)
Straighten
cotter
pin
(1)
and,
while
supporting motor/fan assembly, remove pin
from hinge.
(3)
Set motor fan assembly to one side.
(4)
Gently  tap  on  rim  of  combustion  chamber
(4) and pull out of heat exchanger (5).
(5)
Clean  inside  and  outside  of  chamber  with
water and a brush.  If combustion chamber
is severely corroded replace.
(6)
To   install,   push   combustion   chamber   (4)
into    heat    exchanger    (5)    until    rims    are
seated.      Tap   with   soft   faced   hammer   is
necessary.
(7)  While supporting motor/fan assembly, aline holes in hinge between motor/fan assembly and
heat exchanger.  Slide cotter pin into hinge and bend ends.
(8)
Swing motor/fan assembly to closed position and tighten nuts (3) on eyebolts (2).
(9)
Replace heater assembly in truck.  See INSTALLATION preceding.
4-302