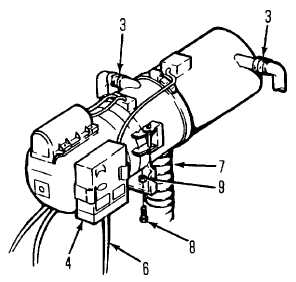 TM 5-4210-220-12
4-19.  WINTERIZATION SYSTEM.
4-19 1 5 Winterization Heater.
This task covers
a
Removal
b
Installation
c.
Repair
TOOLS
Tool Kit, Master Mechanic,
NSN 5180-00-699-5273
2, Appendix G Electrode Alignment Gage (For
Repair Only)
EQUIPMENT CONDITION
Main Engine Shutdown (see para. 2-10)
APU Shutdown (see para. 2-12)
Batteries Disconnected (see para. 4-24.12)
MATERIALS/PARTS
DBW300-21 Winterization Heater
MS51922-17 Locknut
PERSONNEL REQUIRED - 2
WARNING
Engine coolant can cause severe burns.  Allow engine to cool before attempting to maintain
the winterization heater.
NOTE
System should be checked only when temperature is between 35 - 45 deg. F (2 - 7 deg. C).
REMOVAL
(1)
Remove pump body access door.
(2)
The heater can be isolated by using two pairs of
hose  crimp  retaining  pliers,  one  on  the  heater
inlet,    and    one    on    the    heater    outlet    hose.
Otherwise,    place    container    beneath    radiator
drain  hose.    Open  radiator  valve  and  drain  all
coolant.
(3)    Disconnect electrical plugs (6) to heater.
(4)
Loosen hose clamps (3) on inlet and outlet water
hoses   and   pull   hoses   of   heater   fittings.      Tag
water pipes.
(5)
Loosen   hose   clamps   and   fuel   lines   and   pull
hoses off connectors.  Plug and tag fuel lines.
(6)
Detach     exhaust     pipe     (7)     from     heater     by
removing hose clamp.
(7)
Remove capscrews (8) and locknuts (9) attaching heater to mounting brackets.  Discard locknuts.
(8)
Carefully supporting heater, pull heater out of pump body via the pump body access door.
4-300