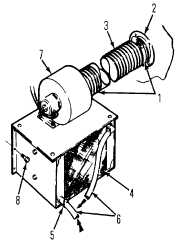 TM 5-4210-220-12
4-19.  WINTERIZATION SYSTEM.
4-19.4 Pump Body Heater.
This task covers
a
Removal
b
Inspection
c.
Installation
d
Repair
TOOLS
Tool Kit, Master Mechanic,
NSN 5180-00-699-5273
EQUIPMENT CONDITION
Main Engine Shutdown (see para. 2-10)
APU Shutdown (see para. 2-12)
Batteries Disconnected (see para. 4-24.12)
MATERIALS/PARTS
HS72 Hose Clamp
64-2920X Tubing
MS90725-6 Capscrew
102200 Assy, Pump Body Heater
WARNING
Engine coolant can cause severe burns.  Allow engine to cool before attempting to maintain
the pump body heater.
NOTE
The  fuel  tank  cooling  fan  and  hose  reel  fan  are  identical  to  the  pump  body  heater  fan.
Replacement  of  these  fans  and  motors  is  similar  to  pump  body  fan  as  detailed  in  repair
following:
REMOVAL
(1)
Remove pump body door.
(2)
The heater can be isolated by using two pairs of hose crimp retaining
pliers,  one  on  the  heater  inlet  and  one  on  the  heater  outlet  hose.
Otherwise,  place  container  beneath  radiator  drain  hose.  Open  valve
and drain all coolant.
(3)
Remove hose clamps (5) from both inlet and outlet water hoses (6) to
heater.
(4)
Remove hose clamps (1) from air intake nipple (2) and heater 4).
(5)
Remove air intake hose (3)..
(6)
Tag and disconnect electrical connections to motor (7).
4-296