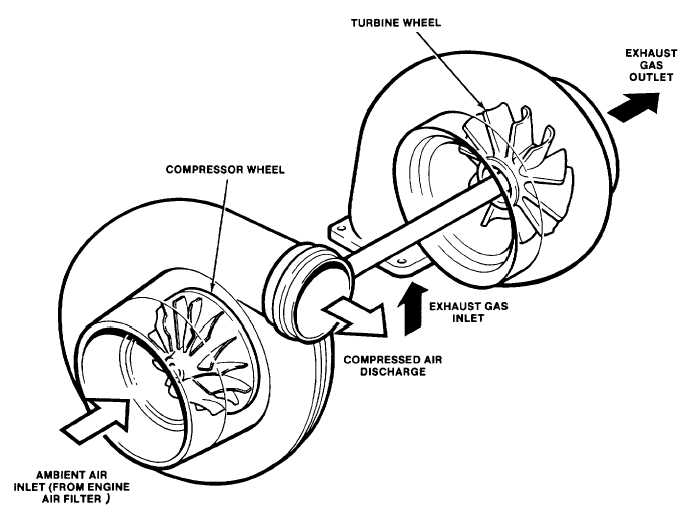 TM 5-4210-220-12
1-11.  ENGINE AIR INTAKE AND EXHAUST SYSTEMS.  - Continued
b.  Turbocharger

  

The turbocharger compressor wheel and turbine are mounted on a common shaft but located
in isolated housings, (see fig. 1-18).  The turbine wheel, driven by the hot exhaust gases, drives the compressor wheel.
Air from the filter is drawn into the compressor, pressurized, and discharged to the engine blower.
Figure 1-18.  Turbocharger
c.  Engine Blower

.  Second stage compression of the intake air is accomplished by an engine blower.  This blower
and  the  turbocharger  work  in  conjunction.    At  low  engine  speed,  little  compression  takes  place  in  the  turbocharger.
Therefore,   primary   pressurization   of   the   intake   air   takes   place   in   the   blower   unit.      At   higher   engine   speeds,   the
compression capacity of the turbocharger exceeds that of the engine blower and most of the air from the turbocharger is
discharged directly into the aftercooler via a by-pass valve in the blower housing.
d.  Exhaust System.  After combustion, the hot exhaust gasses flow from the engine through the exhaust manifold
and turbocharger.  From the turbocharger, the exhaust is vented to atmosphere through the exhaust pipe and muffler.
1-25