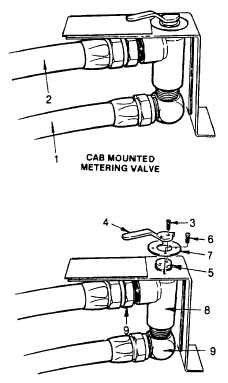 TM 5-4210-220-12
4-18.  PUMP, PIPING, AND VALVES-Continued
4-18.13  Foam Metering Valve.
This task covers
a.
Removal
b.
Installation
TOOLS
Tool Kit, Master Mechanic,
NSN 5180-00-699-5273
EQUIPMENT CONDITION
All Piping Drained
Main Engine Shutdown (see para. 2-10)
APU shutdown (see para. 2-12)
Batteries Disconnected (see para. 4-24)
Foam Tank Valve Closed (see para. 2-11)
MATERIALS/PARTS
22, Appendix E Pipe Sealant
27, Appendix E Silicone Grease
00253530 Foam Metering Valve
NOTE
There are two metering valves used on the truck.  One is mounted in the cab, and the other is
mounted on the structural control panel.
REMOVAL
(1)
Tag and remove the inlet (1) and the outlet hoses (2) from the
metering valve.
(2)
Remove two machine screws (3) that retain the handle (4) to the
extension plug (5).
(3)
Remove the two machine screws (6) that retain the body (8) and
dial (7) to the mounting bracket.
(4)
Remove  the  metering  valve  from  the  mounting  bracket  and
clamp in a vise.
NOTE
Mark  the  position  of  the  fittings  prior  to  removal  to
ensure proper assembly.
(5)
Remove the fittings (9) from the body (8).
4-254