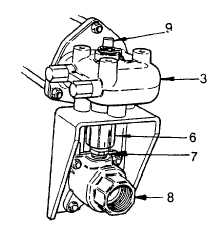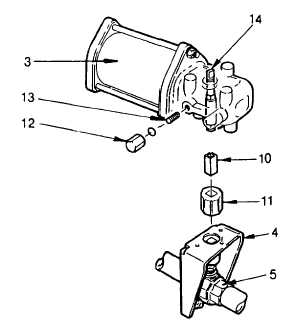 TM 5-4210-220-12
4-18.  PUMP, PIPING, AND VALVES-Continued
4-18.11  Air Actuated Ball Valves-Continued
(5)
Turn the valve stem so the ball is in the fully open position.  Scribe
one mark on the coupling (6) and one mark on the stem nut (7) or
body (8).  Be sure the scribe marks will be visible once the actuator
is installed.
(6)
Turn  the  valve  stem  counterclockwise  until  the  ball  is  in  the  fully
closed position.
(7)
Scribe another mark on the coupling (6) to match up with the mark
on the stem nut (7) or body (8).
(8)
Ensure the actuator (3) is in the fully open or closed position.  Using
plier   wrench   clamped   on   driver   (9)   turn   it   until   the   driver   arm
contacts a stop setscrew.
(9)
Using   a   plier   wrench   turn   the   ball   valve   to   the
position indicated by the actuator indicator.
(10)
Install the reducer (10) into the coupling (11).
(11)
Install actuator (3) onto mounting bracket (4).  Aline
driver   (14)   with   the   reducer   (10),   and   aline   the
mounting  holes.    Install  capscrews  (1)  and  washers
(2) and tighten until snug.
(12)
Connect air lines as tagged in REMOVAL preceding.
4-246