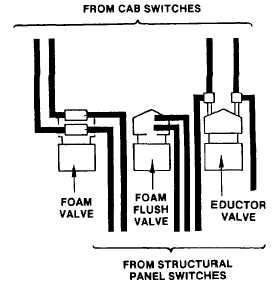 TM 5-4210-220-12
4-18.  PUMP, PIPING, AND VALVES-Continued
4-18.11  Air Actuated Ball Valves.
This task covers
a.
Removal
b.
Installation
c.
Adjustment
TOOLS
Shop Equipment, Automotive
Maintenance and Repair,
NSN 4910-00-754-0705
EQUIPMENT CONDITION
All Piping Drained
Foam Tank Drained (see para. 2-13)
Main Engine Shutdown (see para. 2-10)
APU Shutdown (see para. 2-12)
Batteries Disconnected (see para. 4-24)
Pump Body Heat Shield Removed (see para. 4-11.2)
MATERIALS/PARTS
11, Appendix E Electrical Tape
22, Appendix E Pipe Sealant
NOTE
The    following    is    a    general    remove/install
procedure.      To   remove/install   a   specific   air
actuating
ball
valve
use
the
following
illustration as a guide.  It may be necessary to
remove the actuator prior to ball valve removal.
REMOVAL
(1)
Disable the switching system by setting the cab MODE
switch   to   mid-position.      Tag   this   switch   identifying
'Repairs in Progress'.
(2)
Bleed   the   air   from   the   actuator   by   setting   the   cab
WATER  EDUCTOR  and  FOAM  VALVE  switch  to  mid-
position.
(3)
Bleed the structural panel air lines by setting the FOAM
VALVE, WATER EDUCTOR and FLUSH switches to mid-position.
(4)
Tag and remove the air lines from the air actuated ball valve being removed.  Tagging will ensure proper
assembly.
NOTE
If  only  the  ball  valve  is  being  removed  it  is  acceptable  to  leave  air  lines  connected  and  to
suspend the actuator from the frame using mechanics wire.
4-244