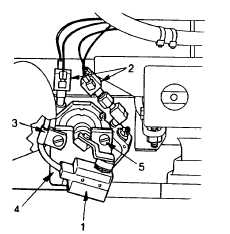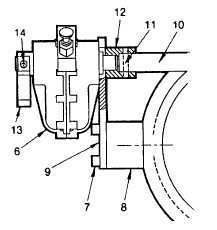 TM 5-4210-220-12
4-18 PUMP, PIPING, AND VALVES - Continued
(7)
Apply pipe sealant (item 22, Appendix E) to threads and install (3) into shuttle valve ports in
orientation shown.
(8)
Install and tighten air lines (1) to their proper location on shuttle valve (2) as shown.
(9)
Test valve and connections by operating the valve a few times from both the cab and the structural
control panel.  (For cab operation, mode switch must be set to CFR, for structural panel operation,
mode switch must be set to STRUCT).  Tighten and/or remake connections as required.
(10)
Be sure cab lamp illuminates when valve is open (Batteries connected and Ignition ON).
Adjust microswitch as required.
c.
Actuator Repair
(1)
Remove microswitch (1) as detailed in Microswitch Repair
preceding.
(2)
Remove   both   shuttle   valves   (2)   as   detailed   in   Shuttle
Valve Repair preceding.
(3)
Remove   the   microswitch   wiring   support   clamp   (3)   and
microswitch bracket (4) by removing screws (5).
(4)
Remove   the   remaining   shuttle   valve   fittings   from   the
actuator (6).
(5)
Remove the microswitch cam (13) from the actuator shaft.
(6)
While supporting the actuator (6), remove the four machine screws (7).
(7)
Separate the actuator (6) from the check valve extended hinge pin (10).
(8)
Inspect all fittings for stripped threads, or cracks that may cause an air leak.
(9)
Drill   through   and   tap   (#10-32)   the   actuator   shaft   in   order   to
attach cam (13) to shaft.
(10)
Lift new actuator (6) into position.
(11)
Aline actuator coupling (12) with roll pin (11).
(12)
Aline   actuator   mounting   holes   to   valve   and   install   machine
screws (7).
(13)
Apply  pipe  sealant  (item  22,  Appendix  E)  to  threads  and  install
shuttle valve fittings in the orientation shown.
4-231