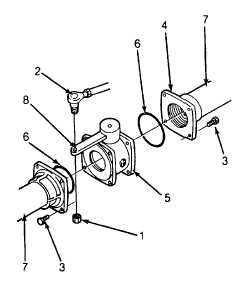 TM 5-4210-220-12
4-18 PUMP, PIPING, AND VALVES - Continued
4-18.4 2 1/2 Inch Drop-out Ball Valve.
This task covers
a.
Removal
b.
Installation
TOOLS
MATERIAL/PARTS
Shop Equipment, Automotive
22, Appendix E Pipe Sealant
Maintenance and Repair,
27, Appendix E Silicone Grease
NSN 4910-00-754-0705
29, Appendix E Threadlock Liquid
4, Appendix G Retainer Removing Tool
57295 O-Ring (Actuator Shaft)
57321 O-Ring (Pivot Bolt)
EQUIPMENT CONDITION
57378 O-Ring (Body)
Main Engine Shutdown (see para. 2-10)
63820 Seat
APU Shutdown (see para. 2-12)
57414 O-Ring (Seat)
Batteries Disconnected (see para. 4-24)
57313 O-Ring (Retainer)
Heat Shields Removed (see para. 4-11) (as required)
All Piping Drained
NOTE
The following valves are 2 1/2 in. drop-out ball valves
(1)
Rear suction
(2)
Side suction
(3)
Rear discharge
(4)
Side discharge (4 off)
(5)
Roof turret manual
NOTE
This removal procedure is used for all 2 1/2 in. ball valves regardless of their location on the
firefighting system.
REMOVAL
(1)
Remove  nut  (1)  and  separate  the  control  rod  linkage  (2)
from the control handle (8).
(2)
Set  control  handle  (8)  to  the  open  position  to  eliminate
damage to the ball during removal of the valve body (5).
(3)
Remove  capscrews  (3)  that  retain  the  end  caps  (4)  to  the
valve body (5) Some valve bodies are connected to piping
on one end only.
(4)
Slide valve body (5) from between end caps (4).
(5)
Remove   O-rings   (6)   from   valve   body   (5)   grooves   and
discard.
4-226