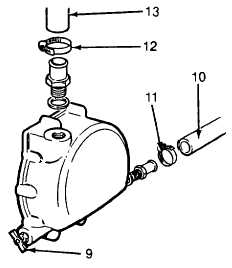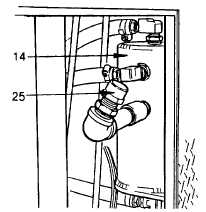 TM 5-4210-220-12
4-18.  PUMP, PIPING, AND VALVES - Continued
(11)    Install  the  primer  inlet  hose  (10)  onto  the
primer inlet connection and tighten the gear
clamp (11).
(12)  Install the primer return hose (13) onto the
primer inlet connection and tighten the gear
clamp (12).
(13)  Tighten the suction tee capscrews (1) to 270
ft lb (365 Nm).
(14)  Tighten the pump discharge elbow locknuts
(6) to 150 ft lb (205 Nm).
(15)  Wipe off excess gasket eliminator (Item 2,
Appendix E) from pipe flanges.
(16)        Raise    the    pump    suction    bracket    into
position  and  attach  pipe  clamp  to  suction
pipe.  Install outermost capscrews through
pump,  pump  bracket    and    suction    pipe
bracket.    Tighten  capscrews  and  nuts  to
270  ft  lb  (266  Nm).    Tighten  pipe  clamp
securely.
(17)  Allow gasket eliminator to cure for at least one hour prior to testing for leaks.
(18)  Ensure the drain valve (9) on the priming pump housing is closed.  Fill the pump primer reservoir (14)
with antifreeze (item 2, Appendix E) through the reservoir fill tube (25).
(19)  Check the fire pump oil level (see Lube Order LO 5-4210-220-12)
(20)  Install box rear plate (C).
(21)  Install all equipment in compartment box.
(22)  Install reducer gear to pump drive shaft as
detailed in para.  4-17.3.
(23)    Fill  tank  and  start  fire  pump  as  detailed  in
para.    2-11    and    check    for    any    leaks.
Tighten/remake joints as required.
(24)  Replace heat shields as detailed in para. 4-
11.2 and para. 4-11.3.
4-219