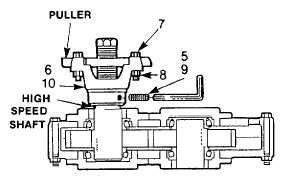 TM 5-4210-220-12
4-17.  PUMP DRIVE AND PTO - Continued
(3)  Carefully lower the reducer gearbox (3) from its
mounting brackets (4).
(4)  Remove the end yoke set screws (5 and 9).
(5)      Using   a   mechanical   puller   remove   the   end
yokes (6 and 10).
(6)    Remove  the  keys  from  the  shaft  keyways  and
inspect for damage.
(7)    Remove  drain,  fill  tube  and  vent  from  reducer
gearbox housing.
INSTALLATION
CAUTION
Damage  to  reducer  gearbox  bearings  may  occur  if  the  companion  flange  or  end  yoke  are
forced onto the shafts.  Ensure that the bores and shafts are free from dirt, paint, or corrosion.
Clean or repair as necessary.
(1)  Install the keys into both shaft keyways.
(2)  Apply antiseize compound (item 3, Appendix E) to both shafts of the reducer gearbox.
(3)  Slide the end yoke (6) onto the high speed shaft.  Ensure that end yoke is at least 1/8 in. (3 mm) away
from seal.
(4)  Tighten the end yoke set screw (5) firmly.
(5)  Slide the companion flange (10) onto the low speed shaft.  Ensure that the companion flange is at least
1/8 in. (3 mm) away from seal.
(6)  Tighten the companion flange set screw (9) firmly.
4-213