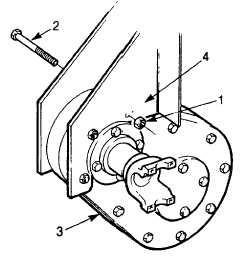 TM 5-4210-220-12
4-17.  PUMP DRIVE AND PTO.
4-17.4  Reducer Gearbox Replace.
This task covers
a.
Removal
b.
Installation
TOOLS
MATERIALS/PARTS
Tool Kit, General Mechanic, Automotive,
3, Appendix E Antiseize Compound
NSN 5810-00-177-7033
15, Appendix E Gear Oil
20, Appendix E Penetrating Oil
EQUIPMENT CONDITION
200-A-2:1 Reducer Gearbox
Main Engine Shutdown (see para. 2-10)
MS51922-17 3/8 in. Locknut
APU Shutdown (see para. 2-12)
MS51922-9 5/16 in. Locknut
Batteries Disconnected (see para. 4-24)
Pump Body and Hose Body Heat Shield Removed
(see para. 4-11)
PTO to Reducer Gear Drive Shaft Removed
(see para. 4-17.2)
Reducer Gear to Pump Drive Shaft Removed
(see para. 4-17.3)
WARNING
Serious injury could occur if heavy equipment is moved/lifted without sufficient personnel to
do  the  job.    Use  proper  physical  lifting  procedures  or  use  a  suitable  lifting  device  or  dolly.
Wear safety shoes, gloves and other suitable protective clothing.
CAUTION
Damage  to  reducer  gearbox  bearings  may  occur  if  the  companion  flange  or  end  yoke  are
forced onto the shafts.  Ensure that the bores and shafts are free from dirt, paint, or corrosion.
Clean or repair as necessary.
NOTE
If  the  reducer  gearbox  fasteners  are  excessively  corroded,  apply  penetrating  oil  (Item  20,
Appendix E) to ease disassembly.
REMOVAL
(1)    Remove  the  drain  plug  and  drain  reducer
gearbox    lubricant    into    clean    drain    pan.
Reducer  gearbox  lubricant  should  be  warm
prior to draining.  Inspect sediment on drain
plug.    This  may  help  determine  component
condition before disassembly.
(2)  Remove the locknuts (1) and capscrews (2)
that  retain  the  reducer  gearbox  (3)  to  the
mounting brackets (4).
4-212