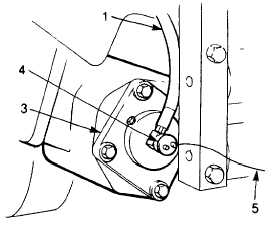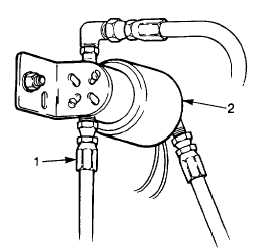 TM 5-4210-220-12
4-17.  PUMP DRIVE AND PTO - Continued
4-17.1  Power Take Off Unit - Continued
(18)      Install   the   solenoid   valve   to   PTO   high
pressure line (1) into the PTO (3).
(19)  Install wiring (5) to pressure switch (4).
(20)      Install   and   tighten   the   solenoid   valve   to
PTO  high  pressure  line  (1)  at  the  solenoid
valve (2).
(21)    Install  and  torque  the  transmission  drain
plug to 20 ft lb (27 Nm).
(22)  Install pump drive shaft, see para.  4-17.2.
(23)      Remove   dipstick   from   transmission   filler
tube  and  install  transmission  fluid  (Item  9,
Appendix  E)  as  per  lube  order  LO  5-4210-
220-12.
(24)  Prior to final transmission fluid level check,
engage  PTO  to  fill  high  pressure  line  and
clutch cavity  (see para. 2-11).  Also  select
all transmission ranges.
(25)      Allow   transmission      to   reach   operating
temperature.  Check transmission oil level is
in the HOT BAND Top up as required.
4-206/(4-207 Blank)