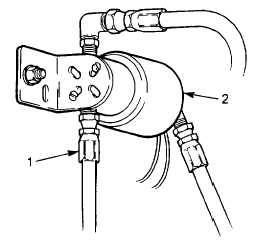 TM 5-4210-220-12
4-17.  PUMP DRIVE AND PTO.
4-17.1  Power Take Off Unit.
This task covers
a.
Removal
b.
Inspection
c.
Installation
TOOLS
MATERIALS/PARTS
Shop Equipment, Automotive
9, Appendix E Dexron
Maintenance and Repair,
852-XGAKP-B6XV PTO Assembly
NSN 4910-00-754-0705
EQUIPMENT CONDITION
PERSONNEL REQUIRED - 2
Main Engine Shutdown (see para. 2-10)
APU Shutdown (see para. 2-12)
Batteries Disconnected (see para. 4-24)
Pump Body Heat Shield Removed (see para. 4-11.2)
PTO to Reducer Gear Drive Shaft Removed (see
para. 4-17.2)
WARNING
Serious injury could occur if heavy equipment is moved/lifted without sufficient personnel to
do the job.  Use proper physical lifting procedures or use a suitable lifting device or dolly.
Wear safety shoes, gloves and other suitable protective clothing.
CAUTION
Damage to the transmission and the PTO assembly can result from Insufficient or excessive
backlash.
REMOVAL
(1)  Remove the transmission drain plug and drain transmission fluid into a clean pan.  Transmission fluid should
be warm.
(2)  Disconnect the solenoid valve to PTO high pressure line (1) at the solenoid valve (2).  Plug line and fitting.
4-202