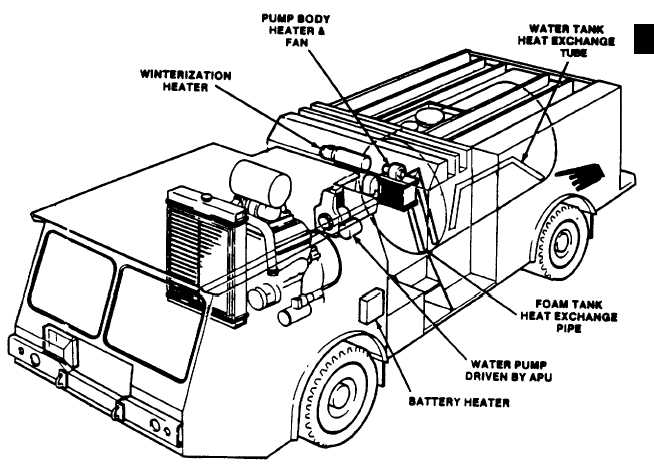 TM 5-4210-220-12
1-9.  LOCATION AND DESCRIPTION OF MAJOR COMPONENTS.  - Continued
q.  Auxiliary Power Unit.
(1)    The  Auxiliary  Power  Unit  (APU)  consists  of  a  five  horse-power,  four  cycle,  air  cooled  diesel  engine
driving a 12-volt  80-amp alternator and the circulation pump needed for operation of the wlnterlzatlon system, (see fig.
1-16).  The APU is equipped with an electric starter motor as well as a rope pulley for manual cranking.  Fuel for the APU
is provided from the main engine fuel tank.
(2)  The APU is located in the lower front right compartment of the hose body.  The combustion air filter is
mounted   under   the   hose   body   on   the   back   face   of   the   compartment.      The   engine   exhaust   is   piped   out   of   the
compartment  toward  the  rear  of  the  truck.    A  blower  fan  in  the  pump  body  is  connected  with  ducting  to  the  hose  reel
compartment to provide warm air to this compartment and thus prevent freeze-up of the hose reel components.
Figure 1-16.  Auxiliary Power Unit
Change 7     1-18