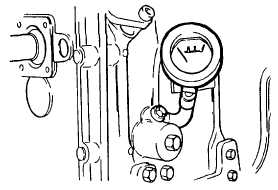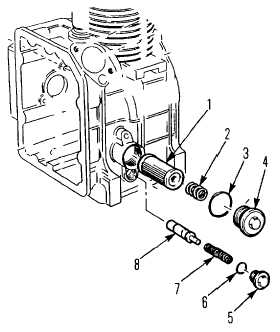 TM 5-4210-220-12
4-15.  AUXILIARY POWER UNIT - Continued
4-15 12  Engine Lubrication System
This task covers
a.
Test
b.
Repair
TOOLS
Shop Equipment, Automotive
Maintenance Repair,
NSN 4910-00-754-0705
EQUIPMENT CONDITION
APU Shutdown (see para. 2-12)
APU may be mounted in truck
except where indicated
TEST
(1)
Remove pipe plug directly above oil filter
element cap.
(2)
Connect  0  -  100  psi  (0  -  1000  kPa)  gage
to oil pressure port.
(3)
Start  engine  and  note  oil  pressure.    Low
idle  20-30  psi  (140  -  200  kPa)  High  Idle
50-65 psi (340 - 450 kPa).
(4)
If  pressure  is  low,  replace  filter,  or  relief
valve,  or  oil  pump.    If  pressure  is  high,
remove and inspect relief valve.
(5)
When   repair   is   complete,   remove   test
gage and install pipe plug.
REPAIR
.
a.
Engine Oil Filter Repair.
NOTE
The  engine  oil  fitter  can  be  cleaned
or replaced.
(1)
Remove oil filter plug (4).
(2)
Extract  spring  (2)  and  filter  element  (1)
from block.
(3)
Clean, and if necessary replace oil filter.
(4)
Slide   filter   (1)   into   block   followed   by
spring (2).
(5)
Check    seal    ring    (3)    on    plug    (4).        If
damaged, replace.
(6)
Install plug in engine block and tighten
4-184