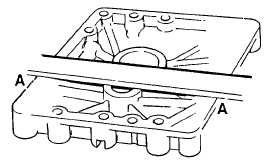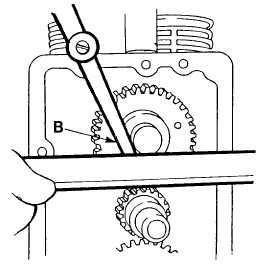 TM 5-4210-220-12
4-15.  AUXILIARY POWER UNIT - Continued
(13)
Place piston at top dead center..
(14)
Insert     the     camshaft     with     cams     on
overlapping  position  (inlet  starts  to  open-
exhaust  just  about  to  close).    Check  that
tappets are at the same height, otherwise
shift  gear  one  tooth  back  or  forward  until
alinement of tappets is obtained.
(15)
Lay     straight     edge     across     inside     of
crankcase  cover.    The  gasket  surface  of
housing  should  be  on  same  plain  as  the
cover   thrust   surface   for   the   crankshaft.
There    should    be    no    clearance    at    A.
Check   with   feeler   gage.      If   there   is
clearance, measure with feeler gage.
(16)
Support
engine
on
workbench
so
crankshaft and camshaft are positioned in
upright position.
(17)
Measure   clearance   B   between   straight
edge    placed    across    block    and    thrust
surface of camshaft.  Clearance B should
not  be  greater  than  0.004  in.  (0.10  mm).
(If
necessary
combine
clearance
measurements A and B).
(18)  Select gasket(s) to give camshaft end play
of   0.004   -   0.012   in.   (0.10   -   0.30   mm).
Gaskets  are  available  in.  0.008,  0.012  in.
(0.20, 0.30 mm) sizes.
(19)
Coat  crankshaft  cover  camshaft  journal,
crankshaft   needle   bearing,   and   oil   seal
with lubricating oil (item 17, Appendix E).
(20)
Install   crankshaft   cover   using   machine
screws.      Be   sure   engine   breather   tube
clamp  is  installed  with  bottom  left  hand
screw.
4-181