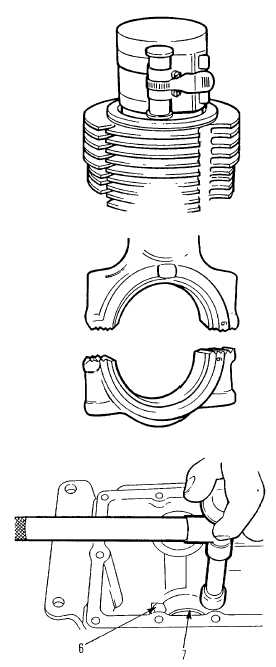 TM 5-4210-220-12
4-15.  AUXILIARY POWER UNIT - Continued
(4)
Install ring compressor on piston.
(5)
With  crank  at  bottom  dead  center  install  piston
in cylinder head.  Be sure arrow head on piston
crown  points  to,  (or  crown  dimple  is  on),  the
flywheel side of the engine.
(6)
Mount  new  bearing  cap  in  crank  end  of  piston
rod and push home onto crank.
(7)
Install   new   bearing   cap   into   piston   rod   cap.
Install   cap   on   piston   rod   ensuring   reference
marks on rod and cap are alined.
(8)
Install lock plate and capscrews.  Tighten to 25
ft lb (34 Nm).
(9)
Bend up locking tabs on the lock plate.
4-173