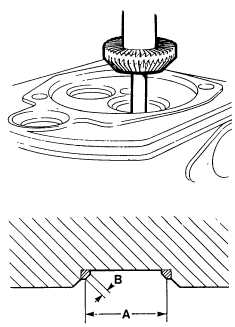 TM 5-4210-220-12
4-15.  AUXILIARY POWER UNIT - Continued
(5)
Extract seat and clean out seat housing.
(6)
Press   new   seat   in   head   using   discarded
valve as arbor or using a pilot drift.  Heat the
head if necessary in an oil bath to 320 - 360
deg. F (160 - 180 deg. C).
(7)
Cut   valve   seat   using   a   35   mm   cutter   for
either inlet or exhaust valves.  Finished seat
diameter (A) should be 1.06 in. (27 mm) for
inlet   valve,   0.91   in.   (23   mm)   for   exhaust
valve.    Seat  width  (B)  should  be  between
0.055 - 0.063 in. (1.40 - 1.60 mm).
(8)
Lap    valve    and    seat    with    valve    grinding
compound (item 31, Appendix E).
(9)
Install cylinder head on engine as detailed in
INSTALLATION preceding.
4-167