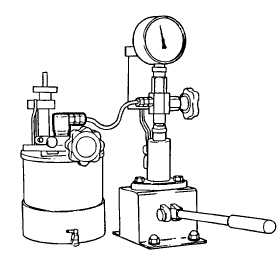 TM 5-4210-220-12
4-15.  AUXILIARY POWER UNIT - Continued
REPAIR
(1)
Connect the injector to a diesel fuel injection nozzle tester.
(2)
Operate  hand  pump  and  be  sure  injection pressure is 2800 - 3100 psi (19,500 - 21,500 kPa).
Check spray angle is 155 deg.
(3)
Operate hand pump slowly building pressure to 2550 psi (17,500 kPa)
(4)
If injection pressure is low, replace injector.  If injector drips, dismantle injector and lap needle and
seat together.  If still drips, replace nozzle.
(5)
If nozzle is dirty on outside, clean carefully with wooden stick.  Clean four nozzles with a 0.006 in.
(0.15 mm) wire.
(6)
Install injector in engine as detailed in INSTALLATION preceding.
4-161