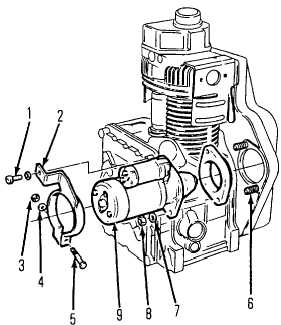 TM 5-4210-220-12
4-15.  AUXILIARY POWER UNIT - Continued
4-15.5 Engine Starter Motor.
This task covers
Repair
TOOLS
Tool Kit, Master Mechanic,
NSN 5180-00-699-5273
EQUIPMENT CONDITION
Main Engine Shutdown (see para. 2-10)
APU Shutdown (see para. 2-12)
Batteries Disconnected (see para. 4-24)
REPAIR
NOTE
May be repaired with APU in truck if the starter motor or solenoid has failed, the starter assembly must be replaced.
(1)
Tag  and disconnect  electrical  connections between wiring harness and starter motor.
(2)
Remove machine screw (1) attaching starter mounting bracket (2) to engine crankcase cover plate.
(3)
Loosen clamp bolt (5), nut (4) and washer (3) securing mounting bracket to starter.  Remove
starter bracket.
(4)
Remove two nuts (8) and washers (7) securing starter to mounting studs (6).
(5)
Remove starter assembly (9).
(6)    Replace  faulty starter with new or remanufactured unit.
(7)
Install two washers (7) and nuts (8) to secure starter assembly to block.
(8)
Install starter mounting clamp (2) with machine screw (1).
(9)
Tighten clamping bolt (5).
4-154/(4-155 Blank)