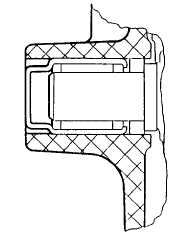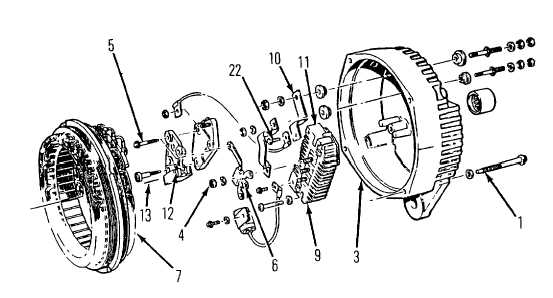 TM 5-4210-220-12
4-15.  AUXILIARY POWER UNIT - Continued
4-15.3 Alternator - Continued
(27)
Check  movement of rotor in slip ring end
bearing.        If    loose    replace    bearing    by
pushing  bearing  from  outside  to  inside  of
end frame.
(28)
Place new bearing on outside and with flat
plate,    push    into    housing    until    top    of
bearing grease cup is flush with outside of
slip ring end frame.
(29)
Install   brush/brush   holder   in   end   frame
Be sure toothpick sticks through outside of
end frame.
(30)
Connect    black    wire    from    regulator    to
rectifier and secure with screw (22).
(31)
Install  stator  and  diode  and  tighten  nuts
on rectifier.
(32)
Guide  slip  ring  end  frame  over  drive  end
frame.  Ensure scribe marks aline.
(33)
Install four bolts between both frames and
tighten securely.
4-152