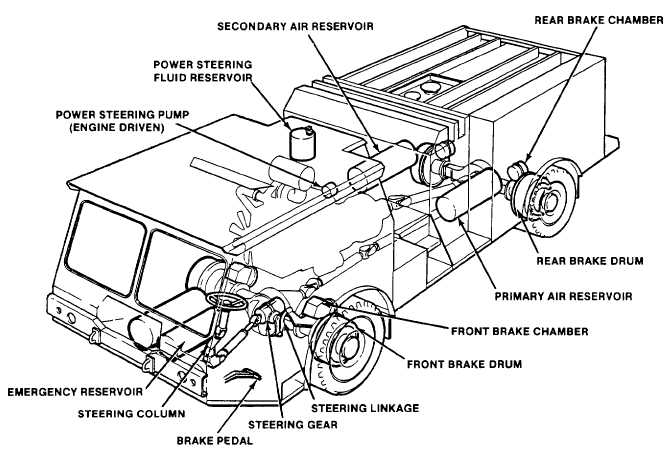 TM 5-4210-220-12
1-9.  LOCATION AND DESCRIPTION OF MAJOR COMPONENTS - Continued
j
Steering  System

.    The  truck  is  equipped  with  a  mechanical  power-assisted  steering  system.    The  system
consists of the steering wheel, steering column and shaft assembly, power assisted steering gear, power steering pump,
and power steering fluid reservoir, (see fig. 1-12).  Steering action (left and right turns) is mechanically transmitted from
the steering wheel via the power assisted steering gear to the front wheels in case of failure of the power assist system,
the truck can be steered manually.
Figure 1-12.  Steering and Brake Components
k.
Brake System.
(1)
The  truck  is  equipped  with  air-operated  service  brakes  on  all  four  wheels  and  with  mechanical,  spring-
applied parking brakes on the rear wheels.  Compressed air for service brake application is provided from pressurized
reservoir tanks.  The main brake valve, attached to the brake pedal, and additional pressure operated valves are used to
control the application of air pressure to the brake chambers.  Mechanical linkages are used to transfer braking power
from these chambers to the wheel brakes.
(2)
The mechanical-parking-brake activating springs are located in chambers mounted piggyback on the rear
air  brake  chambers.    The  parking  brakes  are  automatically  engaged  when  air  pressure  is  exhausted  from  these  air
chambers.  To manually apply the parking brakes, a control valve is provided in the cab.  For release of the emergency
brakes when normal air pressure is not available, an emergency air reservoir is provided.
1-13