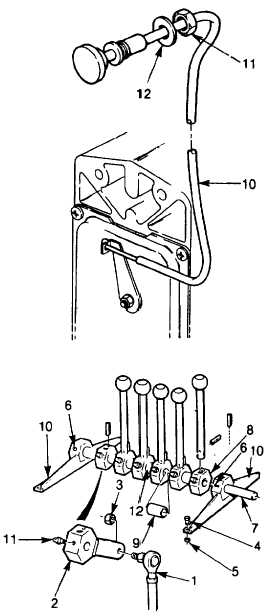 TM 5-4210-220-12
4-13   PUMP BODY - Continued
4-13.1 Structural Control Panel - Continued
(14)
Pull cable free of APU compartment.
(15)
Unscrew  nut  (11)  and  pull  cable  out  of
control panel.
(16)
Install  new  control  cable  (10)  and  attach
to  panel  using  new  nut  (11)  and  washer
(12).  Tighten nut firmly.
(17)
Route cable into the APU compartment.
(18)
Attach cable to APU fuel shut off lever.
(19
Install APU as detailed in para. 4-15.1.
(20)
Start  APU,  see  para.  2-12  and  be  sure
engine operates correctly.
h.
Valve Lever Repair.
NOTE
Control
panel
removed
from
console.
See
REMOVAL
procedure  preceding.    The  valve
control   levers   are   assembled   in
two    banks    which    are    identical
except  for  the  number  of  levers.
The  repair  procedure  is  the  same
for both banks.
(1)
Disassemble   tie   rod   linkages   and   lever
locks.    For  each  linkage,  remove  nut  (3)
and pull tie rod end (1) free of lever lock
(2).
(2)
Remove   four   screws   (4)   and   nuts   (5)
attaching     lever     bank     to     pump     body
console.
(3)
Remove lever bank from console.
(4)  Loosen    two    setscrews    (6)    and    remove
shaft (7).
(5)
Inspect lever locks (8). The bore in each lock should be smooth and well lubricated.
(6)
Inspect shaft (7).  It must be straight and the surface smooth.  Minor surface damage and scratches may
be removed using emery cloth (Item 12 or 13, Appendix E).
(7)
Install shaft locks (8) and spacers (12) on shaft (7) using new and/or old parts as required.
(8)    Install control brackets (13) to shaft and tighten setscrews (6).
4-126