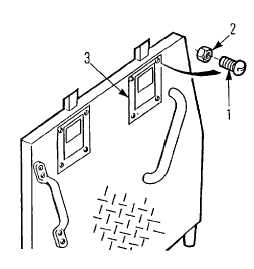 TM 5-4210-220-12
4-12.  CAB - Continued
INSTALLATION
a.  Engine Compartment Cover Installation
(1)  Place left/right cover so that pins (5) protrude locating holes in compartment frame.
(2)  Lift door lock handles (3) and push upper edge of cover into place in frame.  Release handles and be
sure both door locks engage.
b.  Engine Canopy Installation
(1)  Place canopy panel (8) in assembly position on roof structure.
(2)  Attach panel using screws (6) and new locknuts (7).  Tighten firmly.
(3)  Install engine air cleaner as detailed in para. 4-23.8.
REPAIR
a.  Door Lock Handle Repair
NOTE
Compartment cover removed from

truck.
Door     lock     handle     is     non-repairable.          If
defective, it must be replaced
(1)    Remove  four  screws  (1)  and  locknuts  (2)
and remove handle (3).
(2)  Clean residual sealant from edge of cover
panel.
(3)    Apply  a  1/8  in.  (3  mm)  bead  of  sealant
(Item 25, Appendix E) to contact surface of
new door lock handle (3).
(4)    Install  lock  handle  using  screws  (1)  and
new locknuts (2).  Tighten nuts firmly.
4-117